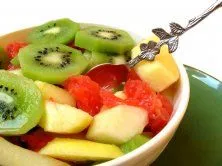 UNTIL FURTHER NOTICE - THERE IS NOT GROUP SNACK
Group Snack Guidelines & Recommendations
Snack time is a great opportunity to include children in the shopping and preparation of food for others, as well as to promote healthy habits. Get your children involved in choosing snacks, according to these guidelines/ recommendations, and learning how to read labels.
Snack time is at approximately 10:15 AM and lunch is at noon.
· Please ensure students eat a complete breakfast prior to arriving at school.
· Keep snacks simple - We serve only fruits & vegetables for snack
If buying organic is not feasible, try selecting produce on the "Clean Fifteen" List (lowest pesticides) and avoid the "Dirty Dozen" (highest pesticides). These are based on the Environmental Working Group's 2012 Fruits and Vegetables Ratings
https://www.ewg.org/foodnews/summary/.
Supporting All of Our Community: Allergens
Please click here for information on: Food Allergens: What You Can Do
Newer Elementary Allergen List
Upper Elementary Allergen List
If you're interested in learning more about managing anaphylactic food allergies/reactions, you are welcome to take this free online training (the CARE Course), which is the same training VG teachers do each year: https://www.allergyready.com/product/course-access/
Clean Fifteen List (lowest pesticides in non-organic produce):
Asparagus, Avocado, Cabbage, Cantaloupe, Corn, Eggplant, Grapefruit, Kiwi, Mangoes, Mushrooms, Onions, Pineapple, Sweet Peas, Sweet Potatoes, Watermelon
Dirty Dozen List (highest pesticides in non-organic produce):
Apples, celery, sweet bell peppers, peaches, strawberries, nectarines, grapes (raisins), spinach, lettuce, cucumbers, blueberries, potatoes